It's hard to find kitchenware that's as well-loved as a good cast-iron skillet. Professional chefs and home cooks alike swear by their versatility in the kitchen as a non-toxic surface for searing, baking, roasting and more. From No-Fuss Barbecue Chicken and Easy Skillet Cornbread to the TikTok Famous Apple Skillet Cake, the possibilities with a cast-iron skillet are endless. Plus, the durability of cast iron makes it a worthy investment for years of delicious meals.
But every chef's approach to cast-iron skillets is a little different.
"As long as you take care of them, they'll last you a lifetime," says Drew Turnipseed, former marketing specialist for Grilla Grills in Holland, Michigan."Cast iron is kind of like barbecue—everyone has their take."
Not sure what your take is yet? With the right pan and proper care, you can venture out on a culinary adventure of your own. Here, we break down how to season, clean and choose a cast-iron skillet—plus the best on the market right now.
How to Season a Cast-Iron Skillet
Cast-iron skillets are known for their non-stick surface coatings that, when properly seasoned, can protect your pan from rusting and deliver added depth to every dish. Many cast-iron skillets come pre-seasoned, but Turnipseed recommends seasoning the pan again prior to use.
To season your cast-iron skillet, apply a neutral oil like vegetable or canola generously to the inside of the pan and use a kitchen rag to wipe the oil throughout. Then remove any excess. Turnipseed cautions against using paper towels, which can rip apart and make a mess.
Then, place it upside down in a 350° oven for 60–90 minutes. Seasoning erodes over time, indicated by dry and patchy spots on the cast iron surface. Turnipseed recommends doing this regularly—up to once a month if you use your cast-iron skillet frequently—to keep your pan in good shape. Though for most at-home cooks, two to three times a year will keep your pan in top condition.
How to Clean a Cast-Iron Skillet
To clean your cast-iron skillet after use, wipe it out while it's still hot. You can use water to help dislodge any stuck bits, but do not use soap.
"The most important thing is to make sure your pan is fully dry and clean before putting it away, otherwise it will rust," says Jimmy Ly, chef at Madame Vo in New York City. Turnipseed recommends putting your freshly cleaned cast iron on the stovetop on medium-high heat to thoroughly dry it out. "It may smoke a bit, but that's fine. You're getting all the water out, so it doesn't rust." Just be sure to keep an eye on your pan—although smoke is expected, it can quickly become a hazard if not watched carefully.
If the cast-iron skillet doesn't feel completely clean yet, Turnipseed recommends pouring a generous amount of coarse kosher salt into your pan and using a kitchen rag to scrub out any stubborn debris. Discard the kosher salt once you're done.
Then, wipe it out and store it with your other pots and pans. Or, if you're short on space or just love the look of your cast-iron skillet, feel free to get creative. Ly keeps his skillet on the stove. Forgues stores his in the oven.
If you're new to the cast iron life, chefs recommend starting with a pan between 9–12 inches, as it's "large enough to sear off a few pieces of protein or to have enough room to sweat down ingredients like mushrooms." says Ly. If you're cooking for a large family, Turnipseed recommends going up to 18 inches.
How to Pick the Right Cast-Iron Skillet
When shopping for a cast-iron skillet, Turnipseed says to look for one uniform surface without screws or creases. "You want one clean cooking surface," he says.
You also want to pay attention to the weight, says Ly."You want a heavy-bottomed pan, that will allow for even heat distribution and make for great searing and cooking." If you have a little more money to spend, he recommends going for something "lighter and sleeker, with the efficiencies of cast iron."
Remy Forgues, chef-instructor at the Institute of Culinary Education in New York City agrees. "Look for a pan that is easy for you to handle, especially considering you'll be lifting the weight of the pan and whatever foods you're cooking in it."
With this in mind, here are the best cast-iron skillets to stock your kitchen with.
The 5 Best Cast-Iron Skillets, According to Chefs
---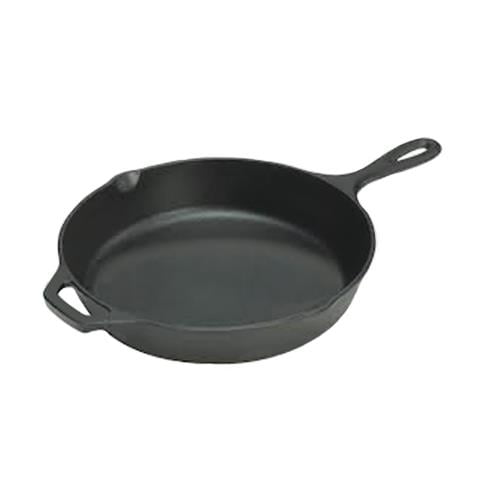 Lodge 12-Inch Cast Iron Skillet
"This is the one I use," says Turnipseed. "I like a 12-inch pan—it's not too big or not too small." He considers Lodge the best brand on the market for the price point.
Forgues also recommends Lodge cast-iron skillets.
$31.13
Walmart
Le Creuset 12-Inch Signature Skillet
This is Ly's top pick.
"This pan is beautiful enough to sit on the stovetop and is uber versatile," he says. "Especially when we live in a time where we have new technology for more efficient cooking, like induction stovetops and lightweight carbon steel, you want to choose a pan that fits multiple needs."
$130–$250
Le Creuset
Staub 10-Inch Enameled Cast Iron Fry Pan
Forgues recommends starting with a slightly smaller pan, more on the 10-inch side.
Though he likes Lodge for budget-friendly options, he recommends Staub as a sleek upgrade.
$185–$195
Williams Sonoma
Smithey Carbon Steel Farmhouse Skillet
If you prefer to support small artisans in your kitchenware shopping, Turnipseed recommends Smithey's skillets, which he calls "a cult favorite" among cast iron devotees.
$295
Smithey
Lodge 6 ½ Inch Mini Cast Iron Skillet
Ly and Turnipseed both recommend this one. Ly likes it for eggs, and Turnipseed uses it for desserts or individual baked dishes when entertaining. "Buy a set of six or something and use it as a nice presentation piece if you're having folks over for dinner," he says.
$9.90
Webstaurant
This article was updated on February 16, 2023